Income Tax Department
Taxpayer's Rights and Responsibilities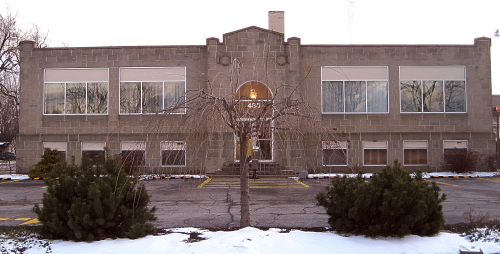 480 Park Avenue, Upper Level
Amherst, Ohio 44001
ph (440) 988-4212
fax (440) 988-3749
Email
Regular Office Hours
8:00 am to 4:00 pm - Monday thru Friday (closed on gov't hoildays)
Due to current public health concerns surrounding COVID-19, the Income Tax office will not be open to the public.
Completed returns, tax documents, payments and extension requests may be dropped off in the new drop off slot located in the north window on the front of the San Spring building, located at 480 Park Ave. Staff will be available Monday through Friday, 8:00 am to 4:00 pm to answer questions by phone at 440-988-4212.
Tax Preparation Services Available
Even though we are unable to prepare tax returns face-to-face, we will prepare returns from documents that are mailed in or placed in the drop off slot.  Taxpayers can drop off their tax information 24 hours a day. Your information will be stored in a secure area until it can be retrieved by office personnel.
Your return will be prepared by our staff based on the information you provide. Along with a copy of the first page of your IRS 1040 form, it will be necessary to include a copy of each W2 form, any IRS forms showing income or loss such as Schedule C, E, or F and 1099s showing miscellaneous income not being reported on an IRS Schedule C. Please include your phone number in case we need to reach you for further information.  Your tax return will be prepared and mailed to you for signature and payment.
"TAXPAYERS' RIGHTS AND RESPONSIBILITIES" means the rights provided to taxpayers in sections 718.11, 718.12, 718.19, 718.23, 718.36, 718.37, 718.38, 5717.011, and 5717.03 of the Ohio Revised Code and any corresponding ordinances of the Municipality, and the responsibilities of taxpayers to file, report, withhold, remit, and pay municipal income tax and otherwise comply with Chapter 718 of the Ohio Revised Code and resolutions, ordinances, and rules adopted by a municipal corporation for the imposition and administration of a municipal income tax.
These rights and responsibilities include, but are not limited to, the following:
The municipal corporation shall maintain a Local Board of Tax Review to hear appeals of the taxpayer on
assessments issued by the Tax Administrator. The Taxpayer or the Tax Administrator may appeal the Final
Determination of the Local Board of Tax Review.
Civil actions to recover municipal income tax, penalties and interest have time limits.
Taxpayer has a prescribed manner in which to request a refund from the Tax Administrator.
Taxpayer has a required responsibility to timely and accurately file annual returns, reports, documents, and
to timely remit all taxes due on such annual returns, reports, documents and filings.
At or before the commencement of an audit (where the tax administrator has ordered the appearance of the taxpayer), the Tax Administrator shall inform and provide the Taxpayer with certain information regarding the audit.
Taxpayer has a required responsibility to allow examination of their books, papers, records, and federal and state income tax returns by the tax administrator.
Taxpayer has certain recourse if aggrieved by an action or omission of the Tax Administrator, their employee or an employee of the municipal corporation.