Income Tax Department
Non-Resident Business and Contractor Forms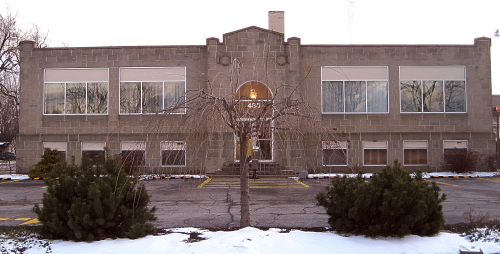 480 Park Avenue, Upper Level
Amherst, Ohio 44001
ph (440) 988-4212
fax (440) 988-3749
Email
Regular Office Hours
8:00 am to 4:00 pm - Monday thru Friday (closed on gov't hoildays)
Due to current public health concerns surrounding COVID-19, the Income Tax office will not be open to the public.
Completed returns, tax documents, payments and extension requests may be dropped off in the new drop off slot located in the north window on the front of the San Spring building, located at 480 Park Ave. Staff will be available Monday through Friday, 8:00 am to 4:00 pm to answer questions by phone at 440-988-4212.
Tax Preparation Services Available
Even though we are unable to prepare tax returns face-to-face, we will prepare returns from documents that are mailed in or placed in the drop off slot.  Taxpayers can drop off their tax information 24 hours a day. Your information will be stored in a secure area until it can be retrieved by office personnel.
Your return will be prepared by our staff based on the information you provide. Along with a copy of the first page of your IRS 1040 form, it will be necessary to include a copy of each W2 form, any IRS forms showing income or loss such as Schedule C, E, or F and 1099s showing miscellaneous income not being reported on an IRS Schedule C. Please include your phone number in case we need to reach you for further information.  Your tax return will be prepared and mailed to you for signature and payment.
Resident Business Tax Information (and Forms)
Resident Business Questionnaire
Withholding Status Questionnaire
The Resident Business Questionnaire and Withholding Status Questionnaire should be completed and returned to the City of Amherst Income Tax Department within 30 days of a business opening or changing ownership. The information will enable the tax office to send the proper forms to your business for filing a net profit return and, if applicable, employee withholding tax.
Non-Resident Business and Contractor Forms
Home Based Payroll Withholding Registration
Courtesy Withholding Registration
Non-Resident Business / Contractor Registration
Payroll Withholding Tax Forms
Employee Payroll Withholding Remittance Form.pdf
* Email zero withholding information to the 
Income Tax Department
.
Annual Withholding Reconciliation.pdf
EF W2 Reporting Specifications