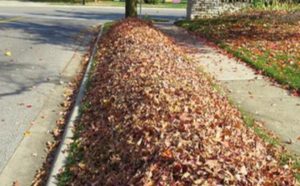 Leaf Pickup Guidelines
The City of Amherst's 2020 fall leaf collection will begin on Monday, November 2nd.
Leaves should be raked to the tree lawn BEFORE the FIRST DAY of the week of your scheduled pickup. Have them to the curb by Monday morning at 7am.
Please do NOT put leaves in the street.
Tree limbs, grass clippings, and bagged leaves will not be picked up by the city. Yard waste will continued to be collected by Allied Waste as part of your regular trash collection through November 25th. The transfer station will be open through November 25th.
We do not accept calls for pickup.
Scheduled weeks for leaf pickup are as follows:
Nov. 2 – 6: Streets NORTH of the railroad tracks (Please have leaves on the curb lawn by the 1st)
Nov. 9- 13: Streets SOUTH of the railroad tracks (Please have leaves on the curb lawn by the 8th)
Nov. 16 – 20: Streets NORTH of the railroad tracks (Please have leaves on the curb lawn by the 15th)
November 23 – 25: Streets SOUTH of the railroad tracks (Please have leaves on the curb lawn by the 22nd)